The Vicissitudes of Taste: The Market for Pop
Keywords:
Pop art, Collectors, Taste, Bourdieu, Wolfflin
Abstract
The emergence of American Pop art as a major avant-garde movement had a significant impact on the market for contemporary art and, with it, the perception of America's newly achieved cultural superiority. A detailed examination of sales records of avant-garde galleries in New York reveals Pop's appeal  to collectors (especially businessmen), despite significant critical disdain, and links the formal qualities and subjects of Pop art to widely-held assumptions about modes of viewing and social class.
References
Alessandra Stanley, "Can 50 Million Frenchmen Be Wrong?" New York Times, October 21, 1990.
Paul Ardenne, "The Art Market of the 1980s," International Journal of Political Economy 25/2 (1995), 106.
Pierre Bourdieu, A Social Critique of the Judgement of Taste (Cambridge: Harvard University Press, 1984), 1.
http://www.blouinartinfo.com/news/story/815597/remembering-herbert-vogel-the-postman-who-amassed-one-of-americas-greatest-art-collections/page/0/1.
Matt Schudel, "Herbert Vogel, unlikely art collector and benefactor of National Gallery, dies at 89," Washington Post, 22 July 2012.
Thomas Crow, "The Practice of Art History in America." Daedalus 135/2 (2006), 76.
Michael Leja, Looking Askance (Berkeley: University of California Press, 2004), 134.
Heinrich Wölfflin, Principles of Art History (Mineola, NY: Dover, 1950), 12.
Christine Battersby, Gender and Genius (Bloomington, IN: Indiana University Press, 1990), 24.
Max Kozloff, "Pop Culture, Metaphysical Disgust, and the New Vulgarians," Art International 6/2 (1962): 34-36.
Peter Selz, "Pop Goes the Artist," Partisan Review 30/3 (1963): 316.
Gene R. Swenson, "What is Pop Art? Answers from Eight Painters," Art News 62/7 (1963): 25.
Anna C. Chave, "Minimalism and the Rhetoric of Power," Arts Magazine. 64/5 (1990).
Meyer Schapiro, "The Introduction of Modern Art in America: The Armory Show," in Modern Art, Nineteenth and Twentieth Centuries: Selected Papers (New York: George Braziller, 1978), 162.
A. Deirdre Robson, Prestige, Profit, and Pleasure (New York: Garland, 1995), 70.
Catherine Dossin, "Pop Begeistert," American Art 25/3 (2011): 105.
"You Bought It, Now Live with It," Life, July 16, 1965.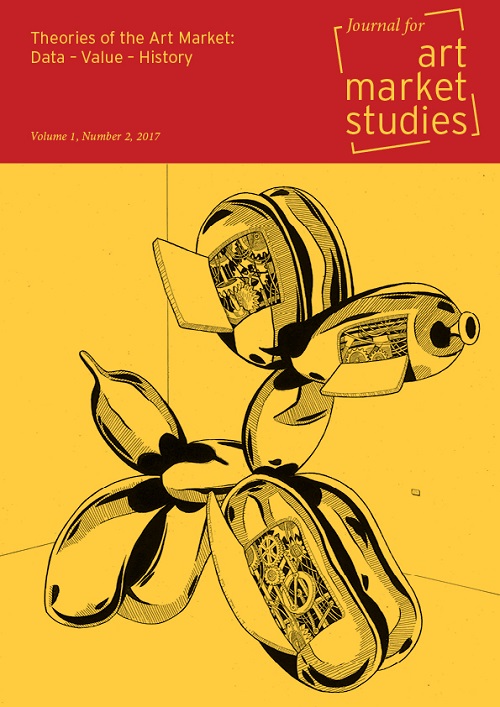 How to Cite
Hulst, T. (2017). The Vicissitudes of Taste: The Market for Pop. Journal for Art Market Studies, 1(2). https://doi.org/10.23690/jams.v1i2.10
License
Copyright (c) 2017 Titia Hulst
This work is licensed under a Creative Commons Attribution-NonCommercial 4.0 International License.
Except where otherwise noted, the Journal for Art Market Studies is licensed under the Creative Commons Attribution-Non-commercial 4.0 International license (https://creativecommons.org/licenses/by-nc/4.0/). Articles can be read and shared if attribution is given to the original source (BY) and the use is not for commercial purposes (NC).