Rodin's Sculpture in Japan and the Economics of Translocation
Keywords:
Rodin, Musée Rodin, Translocation, Currency, Japan, d'Oelsnitz, Matsukata
Abstract
Japanese art collectors acquired a large number of Rodin's sculptures in the 1920s. While recent exhibitions have detailed the increasingly favourable critical reception of Rodin's oeuvre in Japan during the early twentieth century, the underlying economic context behind the translocation of Rodin's sculptures from Paris to Japan has remained largely unstudied. This paper argues that the collapse in the value of the French franc, among other economic disruptions occurring in France during the 1920s, played a significant role in the timing and scale of this translocation. The paper draws on board reports from the archives of the Musée Rodin in Paris and quantitative currency data recorded by the United States Federal Reserve Bank to examine the demand and supply characteristics of the market for Rodin's sculptures in Japan. This analysis provides the alternative perspective within which the dynamics of art market translocations can be further understood.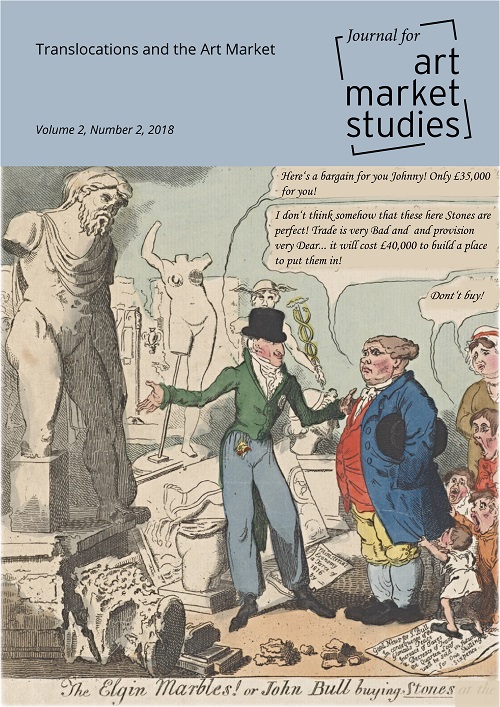 How to Cite
Challis, D. M. (2018). Rodin's Sculpture in Japan and the Economics of Translocation. Journal for Art Market Studies, 2(2). https://doi.org/10.23690/jams.v2i2.21
License
Copyright (c) 2018 David Martin Challis
This work is licensed under a Creative Commons Attribution-NonCommercial 4.0 International License.
Except where otherwise noted, the Journal for Art Market Studies is licensed under the Creative Commons Attribution-Non-commercial 4.0 International license (https://creativecommons.org/licenses/by-nc/4.0/). Articles can be read and shared if attribution is given to the original source (BY) and the use is not for commercial purposes (NC).