Art Trade Palaces – Galleries of art dealers as architectural task and their reception in Munich around 1900
Keywords:
Munich, Bernheimer, Seidl, Thannhauser, architecture
Abstract
The structural development of commercial galleries and, more generally, of commercially used spaces for the presentation of art works as a historical architectural challenge in the first place should become an integral part of our perception. When the magazine Die Kunst spoke of "Art Dealer Palaces" in 1913, a prime example was Munich.  This article will aim at reconstructing a multi-layered image through historical sources, in particular contemporary articles and reviews from architecture magazines or art journals. In fact, buildings and interiors of art dealers were passionately discussed during this period, and in some cases were even regarded as highly controversial. Several case studies will illustrate the extent to  which the individual elements of presentation – wall, floor, ceiling, light, furniture, artworks and their frames were subject to a thorough revision in 1900, and the extent to which the interior design of commercially used exhibition spaces not only matched the staging concepts of museums and the Secessions, but were in fact closely linked to the idea of the museum reform movement and even established a modern private exhibition practice. While the article captures trends and peculiarities that in turn may allow conclusions to be drawn for the history of exhibition strategy in general, there is a need for more in-depth research of this neglected subject.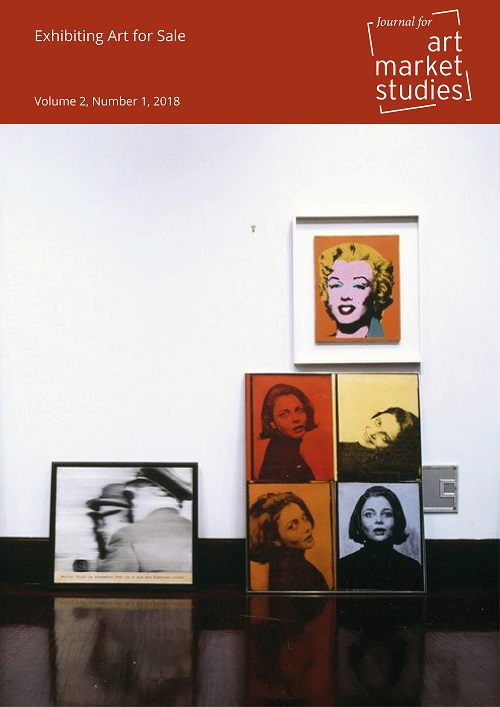 How to Cite
Hopp, M. (2018). Art Trade Palaces – Galleries of art dealers as architectural task and their reception in Munich around 1900. Journal for Art Market Studies, 2(1). https://doi.org/10.23690/jams.v2i1.35
License
Copyright (c) 2018 Meike Hopp
This work is licensed under a Creative Commons Attribution-NonCommercial 4.0 International License.
Except where otherwise noted, the Journal for Art Market Studies is licensed under the Creative Commons Attribution-Non-commercial 4.0 International license (https://creativecommons.org/licenses/by-nc/4.0/). Articles can be read and shared if attribution is given to the original source (BY) and the use is not for commercial purposes (NC).