Genesis of an Auction Sale Category: Sotheby's Inaugural Auction of 'Contemporary Chinese Art'
Keywords:
Art market, Sotheby's, Contemporary Chinese Art, Auctions
Abstract
On 31 October 2004, Sotheby's conducted an auction in Hong Kong under a new category entitled 'Contemporary Chinese Art'. This was not the first time that either of the multinational auction houses had included contemporary Chinese art in their auction offerings; however, in the decade leading up to this auction, contemporary Chinese art was primarily included in the broader sale category titled Modern and Contemporary Chinese Paintings. By late 2004, Henry Howard-Sneyd, Sotheby's Managing Director, China, Southeast Asia and Australasia, was cognisant of a significant shift in international market interest in Chinese art of a style comparable to contemporary international art. In fact, Christie's had offered a substantial number of artworks in this style at an auction in London in October 1998 titled Asian Avant Garde. However, Christie's auction, which included Japanese, Korean and Chinese contemporary art, was poorly attended and a financial failure. Consequently, Christie's abandoned this auction category. So what had occurred over the intervening six years that gave Sotheby's encouragement to inaugurate this auction category?
This article is structured around a unique methodology whereby examination of the contents of the auction catalogue including artists, artworks, provenance, date of production and medium provides a framework for analysis of this emergent auction category. The contextual analysis of Sotheby's inaugural auction in October 2004 illuminates the networked activities of a small group of dealers, critics and curators acting as cultural mediators to create a global market for the artwork of a select group of Chinese artists. The activities of this network are underpinned through the symbolic value imbued by international museum exhibitions of contemporary Chinese art presented as provenance and exhibition history. According to the 2007 TEFAF report, global art auction sales for contemporary Chinese art grew nearly two hundredfold between 2003 and 2007. This article thereby aims to contribute to an understanding of how the global auction market for contemporary Chinese art was inaugurated and developed.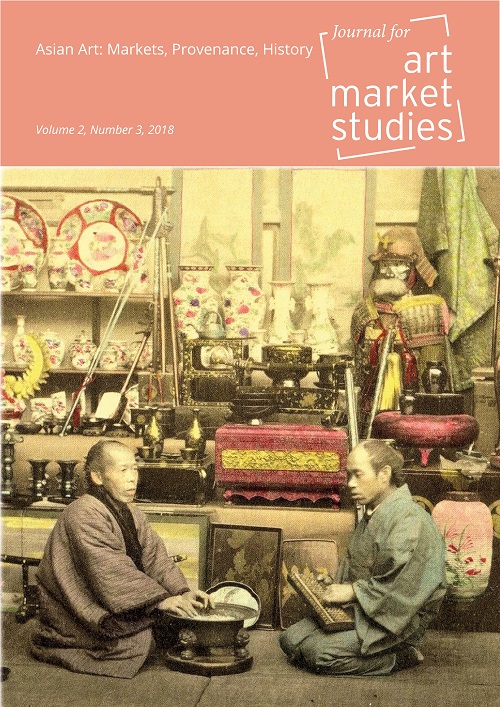 How to Cite
Archer, A. (2018). Genesis of an Auction Sale Category: Sotheby's Inaugural Auction of 'Contemporary Chinese Art'. Journal for Art Market Studies, 2(3). https://doi.org/10.23690/jams.v2i3.65
License
Copyright (c) 2018 Anita Archer
This work is licensed under a Creative Commons Attribution-NonCommercial 4.0 International License.
Except where otherwise noted, the Journal for Art Market Studies is licensed under the Creative Commons Attribution-Non-commercial 4.0 International license (https://creativecommons.org/licenses/by-nc/4.0/). Articles can be read and shared if attribution is given to the original source (BY) and the use is not for commercial purposes (NC).