On the Relevance and Potential of Auction Catalogues as Sources for Art Market Research on Asian Art
Keywords:
art market, auctions
Abstract
The article is published close to completion of the research and digitalisation project "German Sales", funded by the German Research Association (DFG), which will make an entire corpus of more than 5,800 auction catalogues from German-speaking areas between 1901 and 1929 available online. This simplified access will offer new perspectives on the trade in Asian art at auction and present opportunities for further art market research. In the context of the present article, an initial quantitative analysis could be undertaken with respect to the field of Asian art which concluded that this category took up a relatively small portion of the art market, based on auction catalogues allocated to this category: only two percent of auctions were dedicated to it. For these Asian sales, the two main auction centres were Frankfurt am Main and Berlin, with the local dealers Rudolf Bangel and the duo Hugo Helbing and Paul Cassirer. Nevertheless, Asian art was also often included in mixed catalogues, which should be explored in greater detail in future in order to give a more comprehensive picture of this section of the trade. Both the relevance of auction catalogues as a source for art market research and their potential became apparent in the project. Auction catalogues not only contain descriptions of works and information about their material value. Above and beyond these, they offer insights about collection profiles, sources, networks between museums, academics and the art trade, and questions of deaccessioning.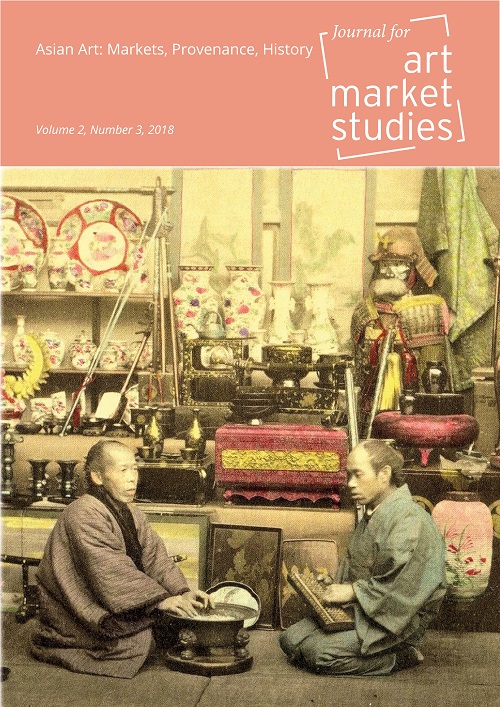 How to Cite
Bommert, B. (2018). On the Relevance and Potential of Auction Catalogues as Sources for Art Market Research on Asian Art. Journal for Art Market Studies, 2(3). https://doi.org/10.23690/jams.v2i3.71
License
Copyright (c) 2018 Britta Bommert
This work is licensed under a Creative Commons Attribution-NonCommercial 4.0 International License.
Except where otherwise noted, the Journal for Art Market Studies is licensed under the Creative Commons Attribution-Non-commercial 4.0 International license (https://creativecommons.org/licenses/by-nc/4.0/). Articles can be read and shared if attribution is given to the original source (BY) and the use is not for commercial purposes (NC).