The Circulation of Zurbarán and Murillo's paintings in the New World
Keywords:
Zurbarán, Murillo, Colonial, Americas, Painting, Seville
Abstract
Francisco de Zurbarán (1598-1664) and Bartolomé Esteban Murillo (1617-1682) spent most of their career in Seville where their paths mostly overlapped in the mid-seventeenth century. Both competed for the growing number of commissions from local religious orders, parish churches and private patrons. Zurbarán's sharp figures against dark backgrounds were preferred during the first half of the seventeenth century whereas Murillo's lighter soft compositions became increasingly popular in the second half. Whereas Zurbarán and Murillo competed at a local level, Zurbarán was recorded as having been much more active on a global scale, exporting over 200 paintings to Latin America from Seville, one of Europe's main ports to the Americas.
This article will for the first time develop a comparative approach considering both artists' presence in the Spanish viceroyalties. There have been several studies on Zurbarán's presence in Latin America, especially by Zurbarán specialist Benito Navarrete Prieto, and an increasing number of scholars considering Murillo's American presence. Navarrete Prieto has focused on Zurbarán's workshop paintings destined to the Americas and their print sources. There has also been some work on the documents related to Zurbarán's painting shipments overseas which will be discussed later. Whereas there are several studies on Zurbarán's presence in the Americas since the viceregal period, most work on Murillo focuses on paintings by his circle, the circulation of copies and his influence on Latin American artists. This study will focus on both artists' presence in the Spanish viceroyalties considering documentary and written evidence of their involvement with the Americas, how their families facilitated these transactions, existing and lost paintings by them in Latin America which provenance dates to the colonial period, their presence in Lima's Convent of Buena Muerte and finally how they perceived the Americas.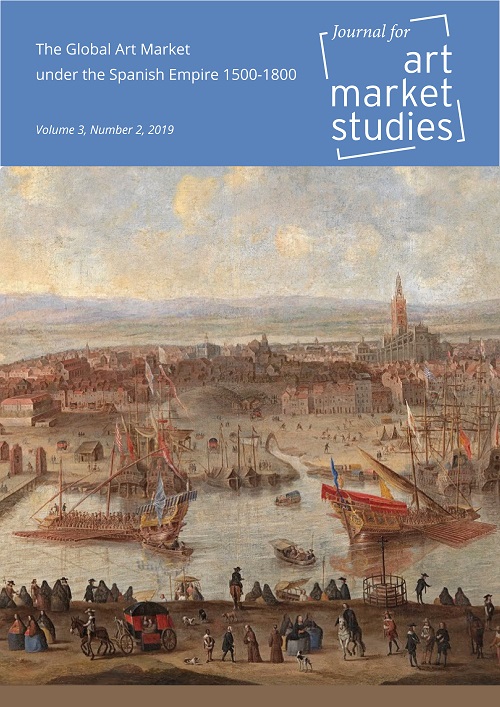 How to Cite
Herráez Vossbrink, A. L. (2019). The Circulation of Zurbarán and Murillo's paintings in the New World. Journal for Art Market Studies, 3(2). https://doi.org/10.23690/jams.v3i2.93
License
Copyright (c) 2019 Akemi Luisa Herráez Vossbrink
This work is licensed under a Creative Commons Attribution-NonCommercial 4.0 International License.
Except where otherwise noted, the Journal for Art Market Studies is licensed under the Creative Commons Attribution-Non-commercial 4.0 International license (https://creativecommons.org/licenses/by-nc/4.0/). Articles can be read and shared if attribution is given to the original source (BY) and the use is not for commercial purposes (NC).