Violence, Globalization and the Trade in "ethnographic" Artefacts in nineteenth-century Sudan
Zoe Cormack

Leverhulme Early Career Fellow | African Studies Centre | Oxford University
Keywords:
Sudan, Trade, Ethnography
Abstract
This article explores the links between African artefacts in European museum collections and the slave and ivory trade in Sudan in the nineteenth century. It examines how 'ethnographic' collections were acquired from southern Sudan and how this process was entangled with the expansion of predatory commerce. Presenting evidence from contemporary travel accounts, museum archives and from the examination of objects themselves, I argue that the nineteenth-century trade in artefacts from South Sudan was inseparable from a history of enslavement and extraction. This evidence from Sudan illuminates the relationship between collecting artefacts in Africa and other markets. It shows how collecting interests intersected with Ottoman and European imperial networks in Sudan and helps to better understand the history of African collections in European museums.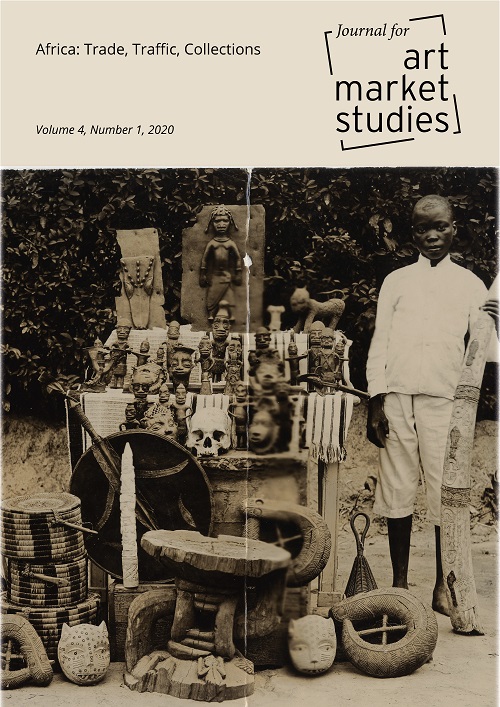 How to Cite
Cormack, Z. (2020). Violence, Globalization and the Trade in "ethnographic" Artefacts in nineteenth-century Sudan. Journal for Art Market Studies, 4(1). https://doi.org/10.23690/jams.v4i1.98
Copyright (c) 2020 Zoe Cormack
This work is licensed under a Creative Commons Attribution-NonCommercial 4.0 International License.
Except where otherwise noted, the Journal for Art Market Studies is licensed under the Creative Commons Attribution-Non-commercial 4.0 International license (https://creativecommons.org/licenses/by-nc/4.0/). Articles can be read and shared if attribution is given to the original source (BY) and the use is not for commercial purposes (NC).