Zing–Foumban–Paris: Tracing a Mumuye mask from Nigeria to France
Abstract
This article follows the path taken by a Mumuye vertical mask collected in Zing, Eastern Nigeria, which entered the collection of two Parisian dealers, Ewa and Yves Develon during the 1980s. Unlike the vast majority of objects from Eastern Nigeria that arrived in Europe in the second half of the twentieth century, this mask happened to be precisely documented in Zing by the American art historian Arnold Rubin. In 1965 and 1970, Rubin photographed the mask several times and was able to record numerous pieces of information about its context of use and its sculptor, Lenke. Based on Rubin's field documentation kept at the UCLA Fowler Museum, Ewa and Yves Develon's personal archives and several interviews conducted with the owners, this detailed case study intends to reconstruct the trajectory of this object from Nigeria to France, through Cameroon. Its cultural biography provides an overview of the profound ühysical and symbolic metamorphoses of African artefacts following their circulation on the art market and their appropriation by Western collectors.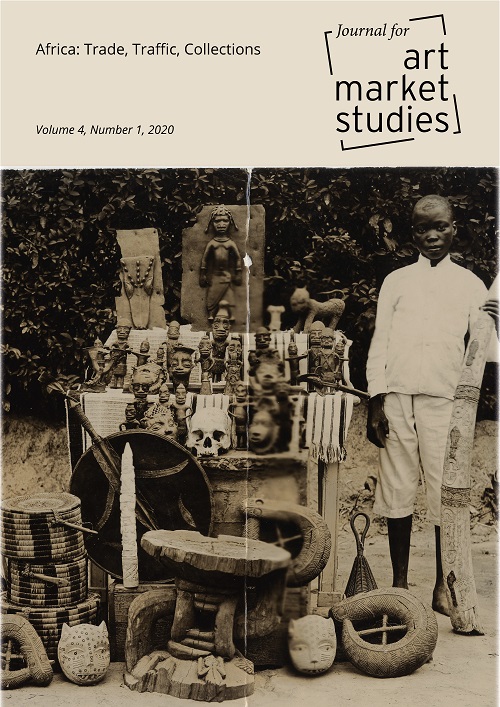 How to Cite
Girard-Muscagorry, A. (2020). Zing–Foumban–Paris: Tracing a Mumuye mask from Nigeria to France. Journal for Art Market Studies, 4(1). https://doi.org/10.23690/jams.v4i1.99
License
Copyright (c) 2020 Alexandre Girard-Muscagorry
This work is licensed under a Creative Commons Attribution-NonCommercial 4.0 International License.
Except where otherwise noted, the Journal for Art Market Studies is licensed under the Creative Commons Attribution-Non-commercial 4.0 International license (https://creativecommons.org/licenses/by-nc/4.0/). Articles can be read and shared if attribution is given to the original source (BY) and the use is not for commercial purposes (NC).