Recently identified Asian Objects from the Eduard & Margarete Fuchs collection
Abstract
duard Fuchs (1870-1940) was one of the most successful authors of popular books on cultural history in Germany around 1900. Quite a number of his books were based on documentary images or artworks, which may have inspired him to form his own collection.  Notably, he owned prints by Honoré Daumier and paintings and sketches by Max Slevogt and Max Liebermann. This essay is the first attempt to record his East Asian collection, which is almost unknown although more than one thousand East Asian objects were auctioned at Lepke in 1937 and 1938; and Fuchs's books entitled Tang-Plastik. Chinesische Grabkeramik des 7. - 10. Jahrhunderts, on Tang sculpture, and Dachreiter und verwandte chinesische Keramik des 15. bis 18. Jahrhunderts, on Ming roof riders, became standard publications on Chinese decorative art. Fuchs's political background as a Socialist enabled him to analyze colonialism and art pillage, while being aware of national liberation movements at an early stage. Establishment experts in Chinese art such as Otto Kümmel criticized him because of his Marxist approach to art history, but the left-wing philosopher Walter Benjamin regarded him as a pioneer in the discovery of the qualities of Asian decorative art.
This essay is based on an ongoing provenance project that was initiated by Fuchs' heirs and funded by the German Lost Art Foundation. With the active support of museums and many researcher colleagues, fourteen objects could be traced to date, including highlights of Eduard Fuchs's famous roof rider collection.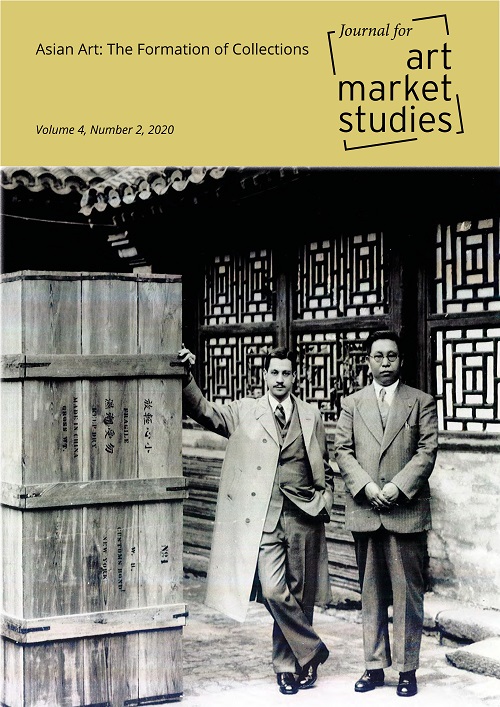 How to Cite
Weitz, U. (2020). Recently identified Asian Objects from the Eduard & Margarete Fuchs collection. Journal for Art Market Studies, 4(2). https://doi.org/10.23690/jams.v4i2.127
License
Copyright (c) 2020 Ulrich Weitz
This work is licensed under a Creative Commons Attribution-NonCommercial 4.0 International License.
Except where otherwise noted, the Journal for Art Market Studies is licensed under the Creative Commons Attribution-Non-commercial 4.0 International license (https://creativecommons.org/licenses/by-nc/4.0/). Articles can be read and shared if attribution is given to the original source (BY) and the use is not for commercial purposes (NC).