Art Historical and Provenance Research in a Case Study of Huangchao Liqi Tushi
Abstract
Using an illustrated album of the Qing im­perial court of the eighteenth century as a case study, the article explores the specific challenges presented for provenance re­search by this type of object, as well as the reciprocal benefits of interlinking research in provenance with that of traditional art history. The Huangchao Liqi Tushi, or the Illustrations of Imperial Ritual Parapher­nalia, is an illustrated encyclopedic album of Qing imperial regulations and codes. The album discussed here was potentially looted from the Qing imperial garden, the Yuanming yuan, in 1860 by Anglo-French troops. Today, seven public institutions across the world are known to hold pages of the coloured version of the HCLQTS. In Europe, the V&A, the National Museum of Scotland, the National Museum of Ireland, and the British Library all have incomplete sections of the HCLQTS in their collections. In North America, the Mactaggart Collec­tion of the University of Alberta Museums also holds an incomplete section. As re­search on this project is ongoing, a com­prehensive report on the album's prove­nance will not yet be outlined. Instead, the author shares his experience on how disre­garded marks on the back of each page, together with the materials typically cate­gorised as art historical, provided essential support for provenance investigation in a case where limited records were available.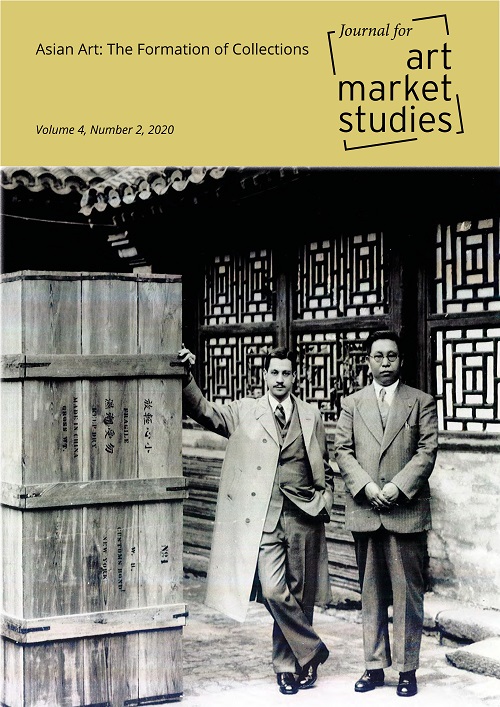 How to Cite
Zhao, H. (2020). Art Historical and Provenance Research in a Case Study of Huangchao Liqi Tushi. Journal for Art Market Studies, 4(2). https://doi.org/10.23690/jams.v4i2.128
Copyright (c) 2020 Haoyang Zhao
This work is licensed under a Creative Commons Attribution-NonCommercial 4.0 International License.
Except where otherwise noted, the Journal for Art Market Studies is licensed under the Creative Commons Attribution-Non-commercial 4.0 International license (https://creativecommons.org/licenses/by-nc/4.0/). Articles can be read and shared if attribution is given to the original source (BY) and the use is not for commercial purposes (NC).